200CC ROCKET IN POCKET - SAHARA Kinroad Offroad Dune Buggy Twin Auto With Rev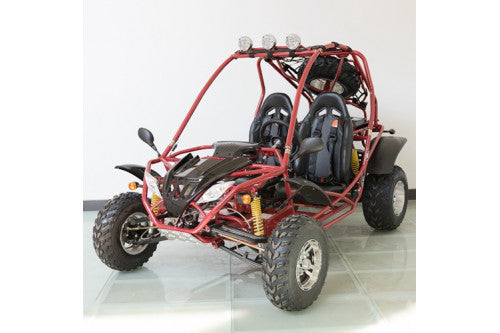 200CC ROCKET IN POCKET - SAHARA Kinroad Offroad Dune Buggy Twin Auto With Rev
Regular price $4,999.00 Sale $5,999.00
Description
200CC ROCKET IN POCKET - SAHARA Kinroad Offroad Dune Buggy Twin Auto With Rev
200cc Buggy which is a heap of fun and quite fast with a High Output 200cc gy-6 engine.  The buggy is a great all-terrain Two Seater Dune Buggy that will deliver all the adrenalin rush that you crave in an off-roading recreation vehicle. The USA designed 4 point roll cage keeps you safely in the cabin that sits 2 adults comfortably while the 4 point harness keeps occupants  planted to the seats while you hammer those corners.It can carry 2 persons from 10yrs to adults.

Features:


Right-hand drive
Adjustable seat
Hydraulic front and rear disc brakes
Electric key start
Forwards & Reverse,built-in gearbox
Headlight/spot lights/indicators/horns
A spare wheel
Strong Roll Cage
3 Points seat belts
Dashboard with Taco 
Large rear view mirrors
Twin chain(pinch #530)
10 inch front and rear wheels
Independent front and rear suspensions
Color: Red

SpecificationsEngine
Engine model: High Output 200cc GY6 Engine
Bore x Stroke:    57.4mm x 57.8mm
Compression ratio:    9.5:1
Max power:    6.1kw/ 7500rpm
Max output: 12hp
Idling speed:    1500+- 100rpm
Fuel type:    SAE 90# or above (unleaded)
Lubricate oil:   SAE 10W/ 30SF,800ml
Ignition:    C.D.I
Starting:    Electric
Clutch:    Automatic, centrifugal, dry, shoe type
Generator:    Outer rotor, flywheel
Carburetor:   Vacuum film type 24mm
Lubrication:    Pressure and splash
Air Cleaner:    Paper element, filtration type
Transmission:    Automatic (C.V.T system) + Reverse
Gear-shifting:   Automatic, centrifugal


Wheel/rim
Front: 21 x 7 - 10 High Grip All Terrain Tyres
Rear: 22x10-10 High Grip All Terrain Tyres
Suspension
Rear and front: Twin Heavy Duty Shocks
Capacity
Maximum Speed:    > 60kms/ph
Maximum Load: 200kgs
Fuel Capacity:    9L
Dimensions
G.W. / N.W.: 320kgs/300kgs
Product Size:  2500x1500x1500mm
Package Size: 2300x1320x780mm
IMPORTANT INFORMATION YOU MAY NEED TO KNOW
This product comes 80% assembled.
Several parts that need assembling are wheels, charge battery (battery not included), roll cage, seats, & steering wheel etc. 

Please ensure that all nuts and bolts are tightened before riding, adjustments & check necessary fluid level.
We recommend a person with mechanic background to assemble this product. We will not be liable for damages incurred from improper assembly.
The buggy uses unleaded petrol. To run-in the engine, please do not over-rev the engine for the first 3 tanks of petrol.
Shipping cost: 
Free Shipping is available to most of the postcodes.
Due to the size and weight of the product, This will be shipped to your local freight depot.
Please note that we will only send goods to your local depot. Please ensure that you provided correct address and contact phone numbers are up to date before purchasing, as after the goods have been dispatched, we do not accept responsibility for goods being sent to your address.
Pre-checks before riding this buggy
Please take 10-15 mins to check the item before you ride. Failure to perform those check may result in serious damage or a severe accident. 
Make sure all the nuts and bolts are tight enough.
CHECKS:
Fuel tank: Mounted securely, no fuel leakage. 
Nuts/bolts/fasteners: Tighten any loosed bolts/nuts.
.RUN-IN The first one hour that the motorcycle is ridden in designed as the run-in period. If the motorcycle is not used carefully during this period, you may end up with a "break down" instead of a "broken in"motorcycle.
Please don't start moving or race the engine immediately after starting it. Even if the engine is already warmed, run the engine for 15-20 mins at idle speed to give the oil a chance to work up into all the engine parts.
Avoid the quick acceleration or starting and drive prudently for the first three hours of operation. Let the motorcycle cool completely.  The motorcycle ready for regular operation after this procedure is carried out.