49CC ROCKET IN POCKET MINI MOTO POCKET BIKE SUPER RACING DIRT BIKE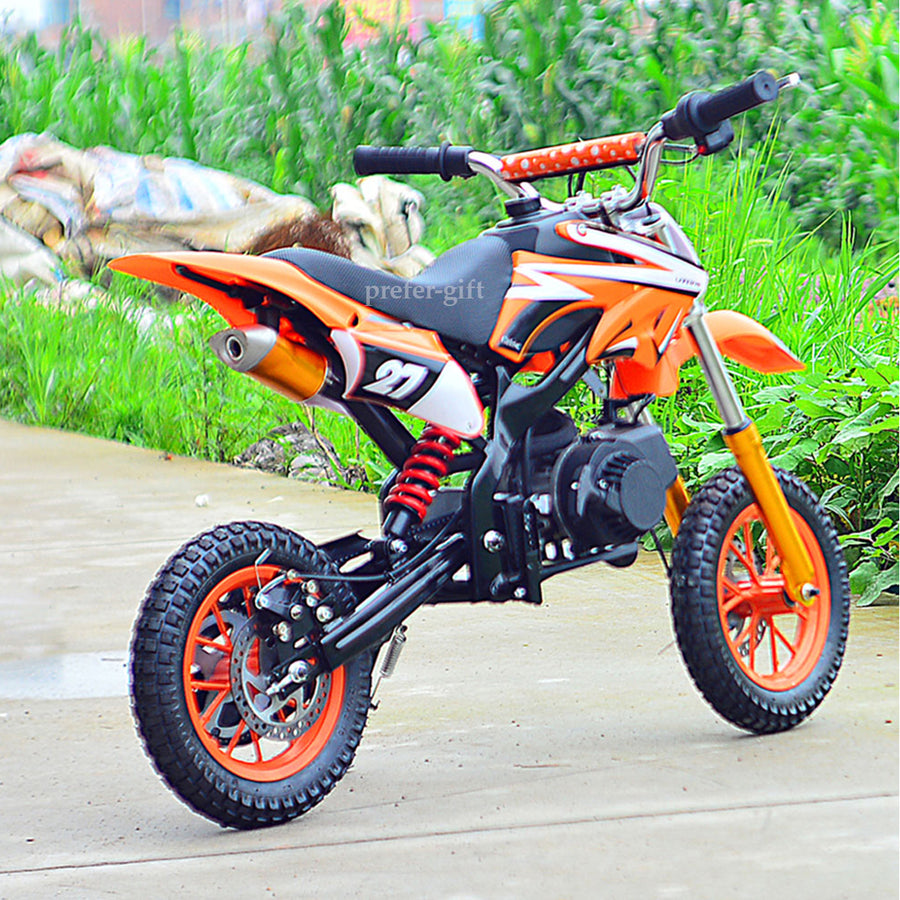 49CC ROCKET IN POCKET MINI MOTO POCKET BIKE SUPER RACING DIRT BIKE
Regular price $499.00 Sale $699.00
Description
2021 49CC ROCKET IN POCKET MINI MOTO POCKET BIKE SUPER RACING DIRT BIKE
 FREE SHIPPING
 PRODUCT SPECIFICATIONS:
Type – Dirt Bike
Motor – 2 Stroke 49cc
Frame – Steel
Engine Start – Pull start
Gas Tank – 2 Liters
Cruising Range – 25 Miles per tank
Transmission – Chain drive
Recommended Age – 13+ (Rider under 16 years old must use this product under adult's supervision)
Tires – 12.5 X 2.75'' inches
Brakes – 1 disc front, 1 disc rare
Throttle – Variable twist – grip
Seat – Padded (Single rider)
Handlebars – Angle adjustable, Not height
Max Rider Weight – 60Kgs
Rocket in Pocket Bike Size – 110CM X 60CM X 70CM
Assembly Required – YES
POCKET BIKE
 FAQ
Does the bike pull start or electrical?
Do you support pickup services?
Do I need to install it after receiving the bike?
Yes, You need to install the front wheel and front brake disc and front plastic cover. If you don't know how to install it, We can send you the video.
SAFETY INSTRUCTIONS:
Always wear helmet and protective clothes while using bikes.
Petrol oil mixing ratio: This bikes have 2 stroke engines where petrol must be pre-mixed with 2 stroke oil.
The ratio between petrol and 2T oil (2 Stroke oil for motorbikes is 25:1)
PRODUCT FUTURE:
The item is Blue colour, If you need another color, Please contact us for the correct listing to order.
This mix oil and gas pocket bike is ideal for providing driveway and parking lot commuting entertainment for kids and teenagers 13 years and older (Ride under 16 years old muse use product under adult's supervision).
Mini Pocket bike motorcycle is constructed with the tube steel frame for extra stability.
Despite the small size, adults, even 6 feet tall can ride them, just check out some pocket bike youtube videos to see them in action.
Great for outdoor activity: Create interesting memories.
Made of steel frames and plastic cover
Prepare one for your older child. We offer a variety of colors at Rocket in Pocket, Suitable for both girls and boys. Motorcycles can provide outdoor fun that smart products cannot provide.
 PACKAGE CONTENT:
1 X Dirt bike
1 X Mix oil bottle
1 X Tool Kit
1 X Sticker