200CC GY6 Dune Buggy UTV ATV Sport 4 Wheel Go kart Auto FORZA 5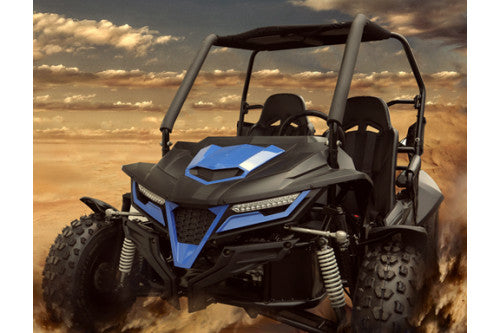 200CC GY6 Dune Buggy UTV ATV Sport 4 Wheel Go kart Auto FORZA 5
Regular price $4,999.00 Sale $5,999.00
Description
200CC GY6 Dune Buggy UTV ATV Sport Quad Dirt Bike 4 Wheel Go kart Auto FORZA 5
Latest buggy model FORZA 5
Features:
Right-hand drive
200cc gy6 engine
Adjustable seat of driver side
Hydraulic front and rear disc brakes
Electric key start
Auto with the reverse gear
Led headlight
Adjustable speed governor behind the pedal
Horn
Front bull bar around.
Bigger 10 inch knobby wheel tyres.
Ball joint independent rear suspension
Color: Green Blue, Red  Please ask for availability .

Specifications
Buggy dimensions: 2340x1400x1480mm LxWxH
Packing size: 2300x1200x660cm LxWxH
Net/gross weight: 240kgs/295kgs
Max loading: 228kgs
Front wheel centre distance: 1200mm
Rear wheel centre distance: 9850mm
Pedal to seat back: 920-1060mm
Min ground clearance: 150mm
Max speed: 60km/h
Climbing ability: 15 degree
Engine model: 1P61F GY6  4-stroke ,air-cool,single cylinder
Displacement: 200cc
Bore x Stroke: 61mm x 57.8mm
Compression ratio:    9.2:1
Fuel supply method: fuel switch/gravity
Carburettor: PD24J
Power: 8kw/3600RPM
Torque: 11N.M/5000RPM
Ignition mode: battery ignition
Start mode: electric start
Lubrication mode: splash
Spark plug model: C7HSA
crankcase lubrication oil model: SAE 10W/40
Fuel tank capacity: 8L
Transmission mode: CVT
Gearbox: Inside reverse
Clutch: Auto 
Battery model: YTX12-BS 12V10AH
Fuse:15A
Front and rear wheels: 22x7-10, 22x10-10 
Tyre pressure: 80-100kpa
Front suspension method: double A arm independent suspension
Rear suspension: Rear axle with double A and double shock absorbers
Driven mode: rear wheel driven
Options:
Windscreen: $50
Alloy wheels : $140
Spare wheel: $120
LED roof light: $80
Speedo meter: $50
Shipping cost: 
Free Shipping is available to most of the postcodes.
Due to the size and weight of the product, This will be shipped to your local freight depot.
Please note that we will only send goods to your local depot. Please ensure that you provided correct address and contact phone numbers are up to date before purchasing, as after the goods have been dispatched, we do not accept responsibility for goods being sent to your address.
Pre-checks before riding this buggy
Please take 10-15 mins to check the item before you ride. Failure to perform those check may result in serious damage or a severe accident. 
Make sure all the nuts and bolts are tight enough.
CHECKS:
Fuel tank: Mounted securely, no fuel leakage. 
Nuts/bolts/fasteners: Tighten any loosed bolts/nuts.
.RUN-IN The first one hour that the motorcycle is ridden in designed as the run-in period. If the motorcycle is not used carefully during this period, you may end up with a "break down" instead of a "broken in"motorcycle.
Please don't start moving or race the engine immediately after starting it. Even if the engine is already warmed, run the engine for 15-20 mins at idle speed to give the oil a chance to work up into all the engine parts.
Avoid the quick acceleration or starting and drive prudently for the first three hours of operation. Let the motorcycle cool completely.  The motorcycle ready for regular operation after this procedure is carried out.