125CC SAHARA ROCKET IN POCKET OFF ROAD TWIN SEAT SEAT RIGHT - BLUE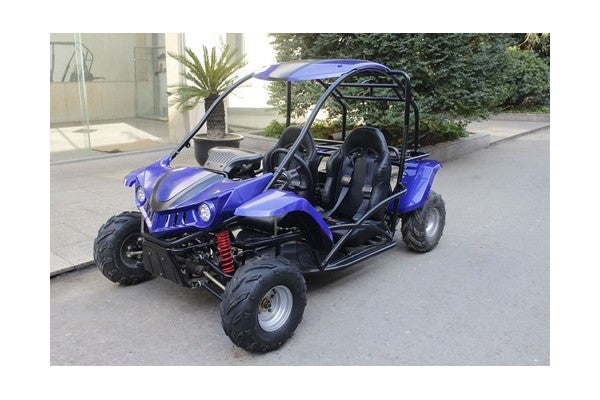 125CC SAHARA ROCKET IN POCKET OFF ROAD TWIN SEAT SEAT RIGHT - BLUE
Regular price $2,499.00 Sale $2,999.00
Description
125CC SAHARA ROCKET IN POCKET OFF ROAD Dune Buggy Atv Quad Twin Seat Right-hand Drive FD With Rev BLACK
Latest model 125cc Buggy which is a heap of fun and quite fast with a decent real 125cc engine.  The buggy is a great all-terrain Two Seater Dune Buggy that will deliver all the adrenalin rush that you crave in an off-roading recreation vehicle. It can carry 2 persons from 7yrs to small adults.

Features:
Right-hand drive 125cc real engine Adjustable seat of driver side Hydraulic front and rear disc brakes Electric key start 1 Forwards & Reverse Led headlight taillight/horn New PVC roof and front cover Strong Roll Cage 3 Points seat belts Dashboard with Taco  Bigger knobby wheel tryes. mirrors

Specifications
Engine model: 125cc air-cooled engine 4 stroke
Engine capacity:    125cc
Bore x Stroke:    52mm x 52mm
Compression ratio:    9.2:1
Max power:    6.3kw/ 8000rpm
Max torque: 8.8N.m/ 6000 Nm/r/min
Idling speed:    1500+- 100rpm
Fuel type:    SAE 90# or above (unleaded)
Lubricate oil:   SAE 15W/ 40SF
Ignition:    C.D.I
Starting:    Electric
Clutch:    Automatic, centrifugal, dry, shoe type
Generator:    Outer rotor, flywheel
Carburetor:   pz25k
Lubrication:    Pressure and splash
Spark plug:  C7HSA 
Transmission:    Automatic + Reverse
Max loading:   150kgs
Dimensions:    2020x1230x1230mm(LxHxW)
Brake track:    <7m @50km/h
Acceleration noise level:  81dB(A)
Wheelbase:    1570(1555)mm
Package Size:    1970mm x 1150mm x 630mm
Fuel tank:   5.5L
Top speed:    50km/h
Brake system:    Hydraulic disc, left foot control
Front/rear wheels: 16x8-7
Final drive: Chain 428
Front tire pressure:    175kpa
Rear tire pressure:   200kpa
Net weight:    180kg
Race, 49CC, 250CC, Speed, Kid, Petrol, Adult, quad, quality, dirt, racing, battery, off road, guaranteed, genuine
Shipping cost: 
Free Shipping is available to most of the postcodes.
Due to the size and weight of the product, This will be shipped to your local freight depot.
Please note that we will only send goods to your local depot. Please ensure that you provided correct address and contact phone numbers are up to date before purchasing, as after the goods have been dispatched, we do not accept responsibility for goods being sent to your address.
Pre-checks before riding this buggy
Please take 10-15 mins to check the item before you ride. Failure to perform those check may result in serious damage or a severe accident. 
Make sure all the nuts and bolts are tight enough.
CHECKS:
Fuel tank: Mounted securely, no fuel leakage. 
Nuts/bolts/fasteners: Tighten any loosed bolts/nuts.
.RUN-IN The first one hour that the motorcycle is ridden in designed as the run-in period. If the motorcycle is not used carefully during this period, you may end up with a "break down" instead of a "broken in"motorcycle.
Please don't start moving or race the engine immediately after starting it. Even if the engine is already warmed, run the engine for 15-20 mins at idle speed to give the oil a chance to work up into all the engine parts.
Avoid the quick acceleration or starting and drive prudently for the first three hours of operation. Let the motorcycle cool completely.  The motorcycle ready for regular operation after this procedure is carried out.