Shop FU - Active stylus pen compatible with IOS& Android touch screen Rechargeable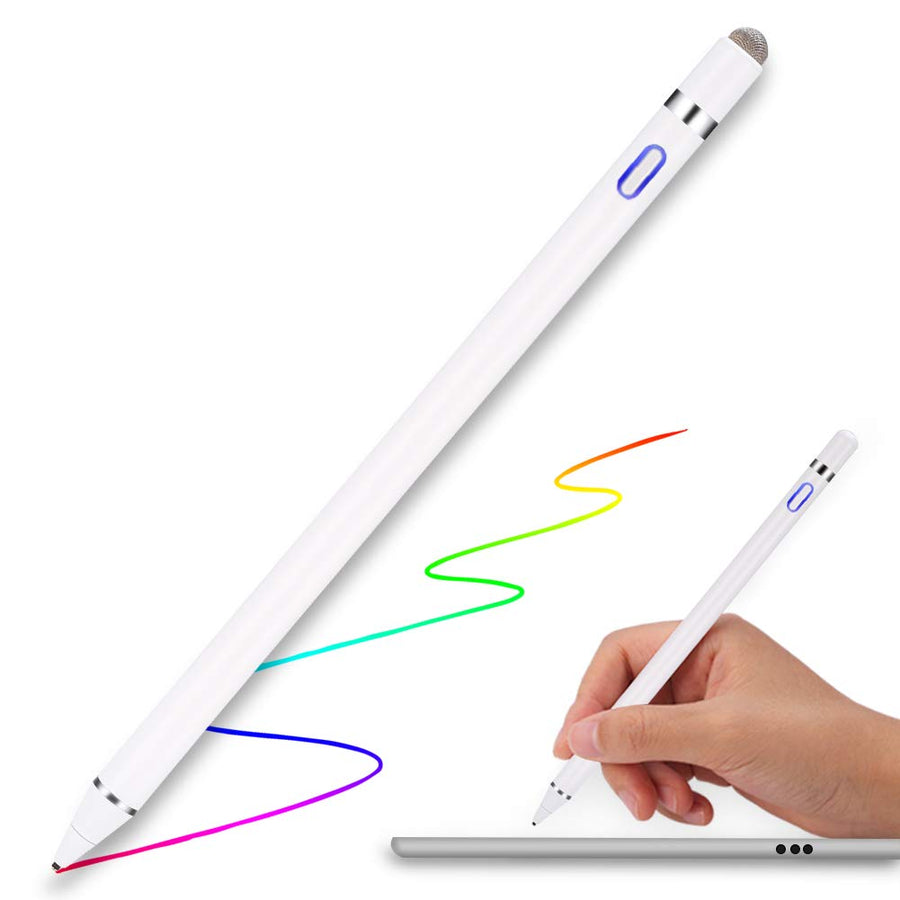 Shop FU - Active stylus pen compatible with IOS& Android touch screen Rechargeable
Regular price $29.99 Sale $39.99
Description
Shop FU - Active stylus pen compatible with IOS& Android touch screen Rechargeable Fine Tip Stylus 1.45mm pen tip Compatible with iPhone iPad and Other Tablet
Quick Details
(Ergonomic Design) Slim sleek and professional, it gives you a real pen feeling, a creative tool that is unmatched by other techniques to work on a tablet. Experience and enhance your capabilities on your electronic device effortlessly.

(Precise Accuracy) With the integration of an ultra fine pen point within the stylus, it allows you to select small icons, click small alphabet and gives you the accurate selection. Writing, drawing and creating content has never been easier. Unlock your inner artist!
(Universal Compatibility) Our stylus has the latest capacitive technology ensuring our product is widely compatible with most touch screen products, including Apple iPads, iPhones, Samsung Tablets.
(Rock and Roll) NO Bluetooth connection needed, the stylus is ready for immediate use and comes fully charged. Just unpack the packaging, turn on and begin creating.
(Long Battery Life) With USB Charge port and built-in battery provides 8 - 10 hours active use and only 1-2 hours charging. With Smart power-saving function, the pen will automatically power off every 30 minutes.
High quality active capacitive stylus for pen tablet fine tip capacitive for smart phone touch 
| | |
| --- | --- |
| product name | active stylus |
| product size | 9*175mm |
| unite weight | about 17.3g(without paper box and cable weight) |
| Package Contents | 1*usb cable 1*stylus pen 1*cloth touch cap |
[Rechargeable & Stand-Alone] - Built in lithium battery provides 10-12 hours of active use and recharges by Micro USB cable (included). 
Charging condition: 5V-1A. 
Stand-Alone active stylus design.
NO Bluetooth or APP required. 
Compatibility - Works with most capacitive touch screen, like Apple iPhones, iPads,iPad Pros,All Samsung Tablets and cellphones except A9100, Microsoft Surface 3 and above, Lenovo Yoga tablets.
Precise/ Sensitivity - It has a 1.45mm super fine tip gives you the accuracy you need and provides superior control and traction against tablet screens. It is made of copper that will last for a lifetime. Active stylus technology reduces off set and lag time between fine tip and trace, keep your tablet or phone screen free of finger smudges by using this stylus instead. 
 Product name   Active Capacitive stylus
 Function    Painting/Writing /Make /Notes/Touch
 Material     Alumium Alloy
 Charging time     1-2 hours
 Working time     8-10 hours
 Standard fitting   USB charger
 Compatibility    Capacitive screen Equipment
 CHARGER, HOLDER, PHONE, SHOP FU, MOBILE, TV, ENTERTAINMENT, CAR, SIMPLE, VENT, WINDSCREEN, GADGETS, CHEAPEST, QUALITY, ONLINE, ELECTRONICS, CABLE, FAST, COVERS, PROTECTORS