ROCKET IN POCKET IN POCKET 49CC MINI QUAD BIKE KIDS 4 WHEELER PINK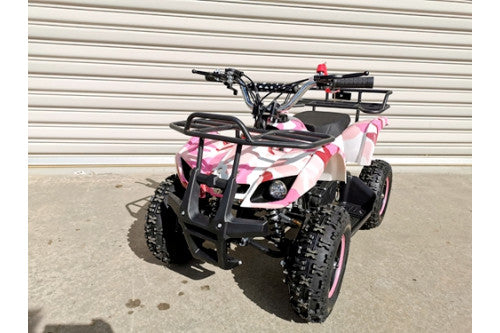 ROCKET IN POCKET IN POCKET 49CC MINI QUAD BIKE KIDS 4 WHEELER PINK
Regular price $699.00 Sale $1,299.99
Description
ROCKET IN POCKET 49CC MINI QUAD BIKE ATV BUGGY KIDS 4 WHEELER POCKET PIT DIRT BIKE GREEN
 Our quad bikes:
have a certificate of the European ATV Standard (EN15997:2011)
have a spark arrester fitted
have been tested for lateral static stability as per Schedule 1 of the Standard and have a hang tag attached at the point of sale that displays the angle at which it tipped on to two wheels
have a rollover warning label affixed in a position that is easily visible and legible when the quad bike is in operation
have an owner's manual that includes rollover safety information.
Features:
Can carry a recommended maximum of 50kg
Soft rubber handle grips with red kill switch
Ignition Keys + Engine kill switch button
Colors in red/blue/pink/green
Knobby 6 inch wheels, for greatest grip in all weather & track conditions
Heavy Duty Sprocket & Chain
Chain Protection cover
Speed Governor
Twin mufflers
Heavy Duty Clutch
Durable frame which is protected with a thick layer of powder coating 
Specifications:
Top speed:30km/hr
Travel distance: 40km on a tank.
Brake system: Disc Brakes (Dual Front & Rear mono Brakes)
Fuel type: (25:1) Premium Unleaded & 2 Stroke Full Synthetic motorbike oil
Tank capacity: 1 Litre
Wheel size: 6 inch
Seat Height: 46cm 
Start model: Pull Start
Box sizes: 99 x 58 x 44cm
Bike sizes: 110 x 64 x 63cm
Net weight: 41kg
Suspension: Dual Front & Rear Mono Shocker
Gears: Automatic Centrifugal Clutch
Seat height: 45cm 
Packing list:
1 x Mixture Bottle with capacity scale
1 xTool kit bag
1 xManual book.
Ratio is 25:1 
40mls oil to 1 Litre of Premium Unleaded or
200mls of oil to 5 Litres of Premium Unleaded