Jingle Jollys 59m LED Festoon String Lights 60 Bulbs Kits Wedding Party Christmas S14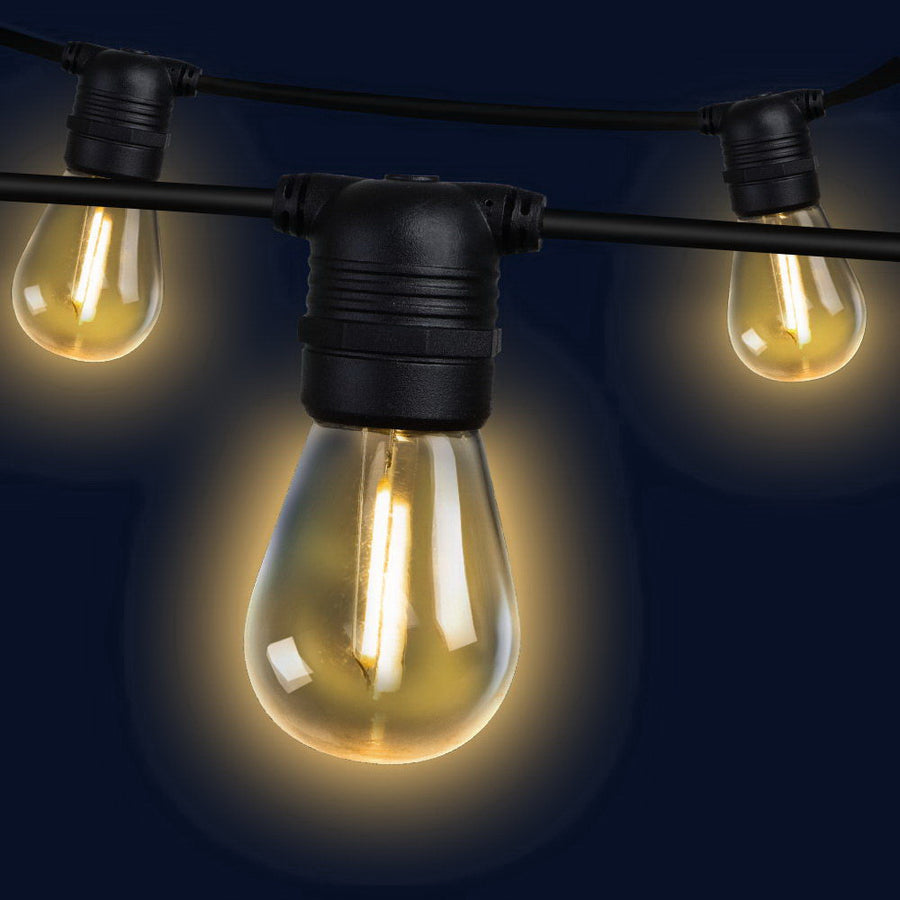 Jingle Jollys 59m LED Festoon String Lights 60 Bulbs Kits Wedding Party Christmas S14
Regular price $173.99 Sale $288.99
Description
Our Jingle Jollys Festoon String Lights are great not only for wedding and birthday parties or special events, but also for creating a warm, inviting ambience with its bright and mellow glow. Suitable for both indoor and outdoor use, its IP44 rating means that it can be used in the rain and all weather conditions. Each bulb draws a very low voltage and is placed 90cm equally apart from each other throughout its 59m length for an even distribution of illumination and brightness. Not least, the each bulb has a 20,000 hours lifespan so that you can get to use the string lights for quite a while.
Note: Bulbs are not removable.
Features
*Festoon string light kits
*Bright and mellow glow
*Low energy consumption
*Low voltage for safety
*Connectable to one another
*Waterproof
*SAA and RoHS certified
*Standard Australian plug
Specifications
*Bulbs quantity: 60
*Total length: 59m
*Distance from charger to first connector: 5m
*Bulb interval: 90cm
*Waterproof IP rating: IP44 and above (Outdoor use)
*Charger: SAA approved, 25W - 30W
*LED light temperature: 2200K
*S14 bulb holder
*Assembly Required: Yes
*Please note: This item comes in 3 Packages
Package Contents
1 x Festoon String Light Set
1 x User Manual
Note: It randomly consists of several single lights that is 10-bulb, 20-bulb or 30-blub.Hence, there will be more than 1 parcel you may receive.Please wait patiently for all parcels arrived. If any problems, please feel free to contact us.
Delivery excludes the following postcodes:
885, 2222, 2449, 2818, 2827, 2829, 2836, 2839, 2874, 2898, 3724, 4477
4490, 4626, 4822, 4871, 4875, 6044, 6209, 6224, 6290, 6442, 6536, 6562
6707, 6713, 6725, 6728, 6743, 6751, 6753, 6754, 7255, 7256, 7258, 7260