Greenfingers Grow Light Full Spectrum 7200W LED Lights Veg Flower All Stage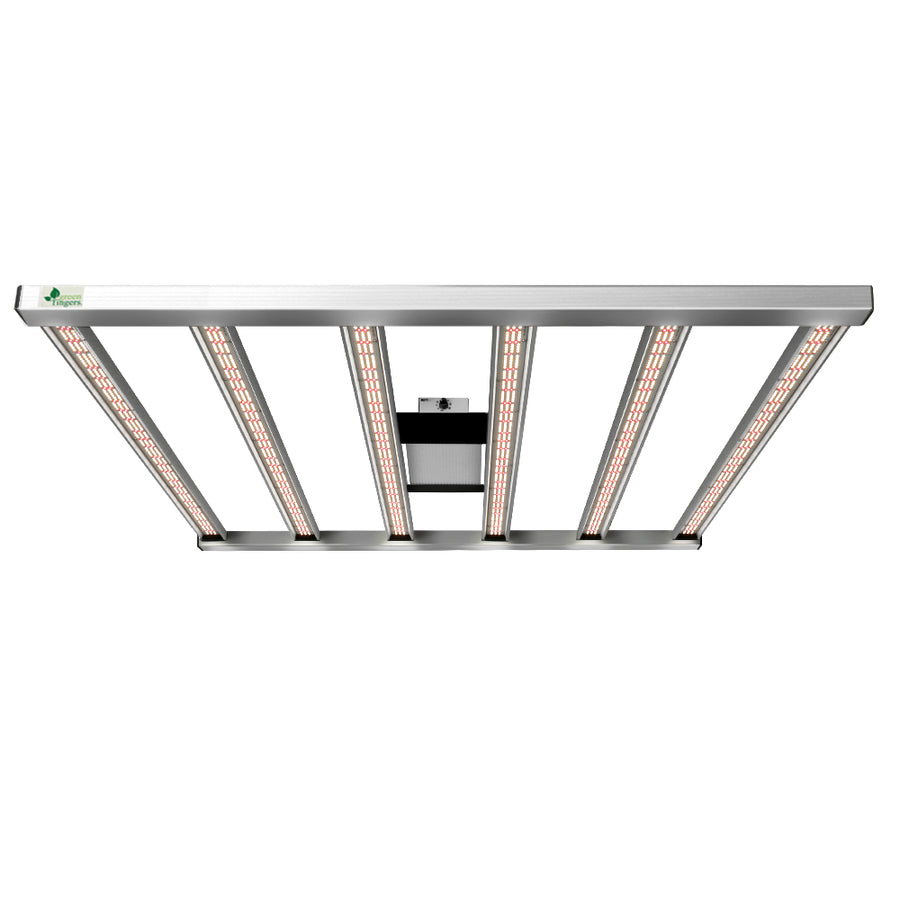 Greenfingers Grow Light Full Spectrum 7200W LED Lights Veg Flower All Stage
Regular price $729.99 Sale $1,231.99
Description
Just like us, our indoor plants can suffer if not exposed to the nourishing light of the sun. No windows? No problem – not with the Greenfingers Quantum Board LED Grow Light with Smart App Control. Our grow lights are designed to stimulate plant growth across the full lifecycle by providing a light like the sun, ideal for photosynthesis, with varying levels of lumen output (intensity) and the full spectrum of light. Using quality Samsung LM281B diodes and a Sosen driver, it is a full-spectrum lighting device. The grow light has adjustable settings for Vegetables, Flowers and All Bright conditions(except for 1000W). There are timing settings for each setting, and using the smart app allows for full remote control over each light and 0-100 infinite dimming(except for 1000W&1500W). It uses a thick aluminium heat sink to ensure proper heat dispersion, and is more energy saving than old High Pressure Sodium (HPS) lights. Show off your Greenfingers with our Greenfingers Quantum Board LED Grow Light with Smart App Control and watch your garden grow today.
Features
- Upgraded FC-E Led & Detachable Bars

The NEW FC-E series uses independent and detachable light bars and power supply. The grower can assemble the light bar according to their needs, adjust the position of the light bar, and make the lighting more uniform, so as to maximize the output.

Whether growing food, or ornamental plants, Mars Hydro FC-E series can take care of every corner of your grow space with the most uniform light distribution. Generate high-quality, reliable crop yields and sustainable control over your grow results!
- High-Quality Efficient LEDs Chips

High-Quality LEDs chips, High Efficiency Up to 2.8 μmol/j,This High-intensity spectrum is beneficial for plants at all stages - from veg to bloom, and creates Big density Buds,IR&UV added(FC-E6500/FC-E8000 except),better for plants grow.
- Dimmable Brigntness & Dimming Daisy Chain

Dimmer knob added, ON/OFF and multi-connection function,more convenient to adjust the brightness. Up to 200 lights can be daisy-chained and control together on just one light
- Uniform lighting&Boom Yield & Increasing Crop Quality

Upgraded sun-like full spectrum,high PPE, max yield at 2.5g/w, increasing your yield 50% or more compared with old blurple and HPS lights. easy mounting options,allowing you to grow with confidence.

Specifications:
Noise Level: 0 dB
6*(336 White+46 Red+2 IR)=2304 pcs
Samsung LM281B 3000K+5000K+Red+IR
Spectrum: 660-665nm,2800-3000K,4800-5000K,730nm
Actual Wattage: 720W @100-277V
Amp Draw: 6.01A@AC120V, 3.0A@AC240V, 2.61A@AC277V
0-10V dimming with Knob and RJ14 port
Core Coverage: 5ft × 5ft=1.5m × 1.5m
PAR Value: 1910umol/S
Lumen Output: 111020@AC120V 108702Lm@AC240V
Replaces HPS/HID/MH: 1000 watt
size:1104*1128*86mm
Product Weight: 12.1 KG
Input Voltage: 100V-277V(AC)
Frequency Range: 50~60Hz
Life Rating: 50000hrs
PPE: 2.6μmol/j
Max Yield: 2.5g/w

Package Content
1 x Grow light
1 x Hanging Kits
1 x Manual

Delivery excludes the following postcodes:
885, 2222, 2449, 2818, 2827, 2829, 2836, 2839, 2874, 2898, 3724, 4477
4490, 4626, 4822, 4871, 4875, 6044, 6209, 6224, 6290, 6442, 6536, 6562
6707, 6713, 6725, 6728, 6743, 6751, 6753, 6754, 7255, 7256, 7258, 7260