Devanti Bread Maker Machine Automatic Bakehouse Home Stainless Steel Baker Oven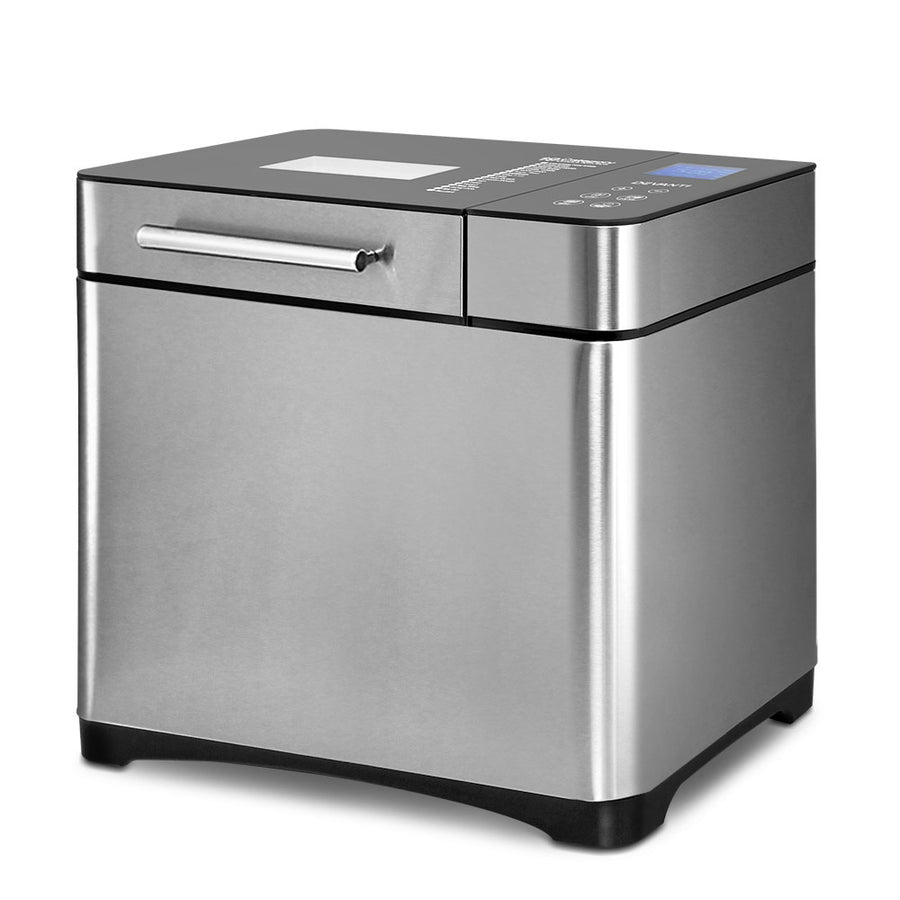 Devanti Bread Maker Machine Automatic Bakehouse Home Stainless Steel Baker Oven
Regular price $132.99 Sale $342.95
Description
Ever imagined baking delicious homemade bread could be a piece of cake? Our Devanti Bread Maker makes this imagination a reality.
It features 19 automatic programs for you to make a wide range of breads, cakes and even jams, to give you a trouble-free baking experience. It features customisable settings to ensure your bread is baked just the way you like it. Three loaf sizes to suit the size of your family or stomach. Three crust settings for just the right crispiness. The fruit and nut dispenser automatically adds in your preferred toppings at just the right moment and ingredients can be controlled to suit your dietary requirements. Baking can be delayed for up to 15-hours so that the bread is freshly baked and ready to eat when you need it. And if you are not there to remove the bread straight away after baking is done, no worries, as the keep warm function ensures it stays warm for up to an hour afterwards.
Best of all, the bread maker is durably constructed and low-maintenance, with a stainless steel body that is resistant to fingerprints, scratches and wear and an aluminium bread pan that is dishwasher-safe. Other useful features include non-slip feet, large viewing window with built-in interior light for you to easily monitor the baking process and 15-minute power interruption protection that ensures baking resumes once power is restored after an outage.
Make delicious and healthier bread for you and your family with our easy-to-use bread maker, it is sure to become a favourite!
Features
19 automatic programs
Automatic fruit and nut dispenser
Touch control panel with LCD display
Large viewing window with interior light for easy monitoring
3 loaf sizes and crust settings
15-hour delay timer
60-minute keep warm function
Pause function
15-minute power interruption protection
Non-slip feet
Non-stick aluminium bread barrel
Anti-fingerprint coating
Easy to clean and dishwasher-safe
SAA, CB, CE, EMC, RoHS, LVD, LFGB approved

Specifications:
Brand: Devanti
Bread maker body material: Stainless steel and tempered glass
Bread barrel material: Aluminium
Finish: Satin brushed
Loaf sizes: 500g/750g/900g
Crust colour settings: Light, medium and dark
Power: 710W
AC motor: 110W
Voltage: 220V-240V
Frequency: 50Hz/60Hz
Dimensions: 34.5cm x 21.5cm x 31cm
Weight: 6.5kg
Colour: Inox and black
Assembly required: No
Number of packages: 1

Package Content
1 x Devanti Bread Maker
1 x Bread Barrel
1 x Measuring Cup
1 x Measuring Spoon
1 x Hook
1 x User Manual