Crystal Clear Kayak and Kayak Cart Set with Free Random Color Paddles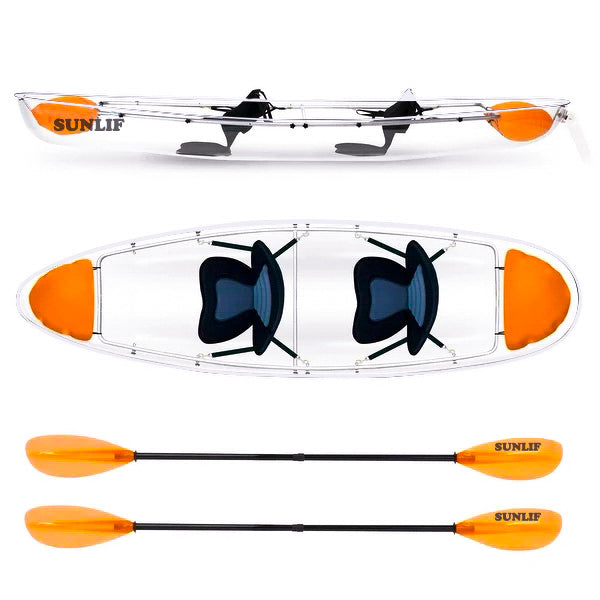 Crystal Clear Kayak and Kayak Cart Set with Free Random Color Paddles
Regular price $1,380.99 Sale $1,850.00
Description
Crystal Kayak and Kayak Cart Set
Crystal Clear Kayak gives you a better way to enjoy the water and the underwater world!
The kayak comes equipped with a full transparent polycarbonate hull , which is made of 100% virgin polycarbonate resin imported from Bayer and GE Lexan, so it is incredible impact resistance and durability. The quality detachable seats and inflatable air chambers keep you in a safe and comfy condition. The crystal clear bottom helps you discovering a new world under your feet.
FEATURES:
Full Transparent: 100% clear kayak hull helps you discover a whole new world while paddling, and you'll be amazed at what you can see: corals, reefs, fish, marine life. Also what we have is the update version of this kayak, the hull is updated with no black rubber edge, it is all clear!
Light Weight: Only 1/2 weight of that same thickness glass, easy to carry.
High Impact Resistance: The hull is made of a strong lightweight 6mm vacuum sealed GE Lexan - the same material used for airplane windshields. Which provides a high impact resistance, 250 ~ 300 times that of same thickness glass, 30 times that of acrylic sheet.
Low Space Consumption: A removable lightweight aluminum frame, minimizing space consumption, thus making transporting and storage easy and convenient.
Large Space Capacity: Capacity to safely & comfortably carry 2 adults.
Easy Storage: The frame, seats and inflatable air chambers are removable, so it is easy to be stacking, storage and transportation.
SPECIFICATION:
Kayak Color: Crystal Clear
Dimensions: 336cm *93cm * 32cm
Weight: 27kg
Hull Material: Polycarbonate
Frame Material: Aluminum Frame
Max Capacity: 2 Adults
Paddle Color: Black, White, Yellow ( each kayak comes with 2 paddles, and the colors of paddles we sent are randomly)
1 Full Crystal Clear Kayak Set Comes With:
1pc of Anodized aluminum internal frame system
2pcs of Inflatable Are Chambers
2pcs of Aluminum High Quality Paddles
2pcs of Detachable Cushion Seats
Kayak Cart Key Features:
DURABLE: No noise. Aluminum Pipe & PU Tire construction ensures longevity while also keeping the carrying weight Capacity(70-80Kg)
LARGE TIRES DESIGN: Allows for smooth movement across rough surfaces such as sand, gravel, and through wooded areas
CONVENIENT TO STORAGE & INSTALL: It is fold-able, easy for storage; Install it easier, no tool required
EASY ASSEMBLY AND DISASSEMBLY: Trolley is easy to assemble with no tools required; dolly breaks down for easy and convenient storage or transport.
PROTECTION: Oversized foam bumper pads protect your vessel from scratches or dents; Rubber bumpers of the foot protect the frame from wearing.
Specifications:
1. Material: PU & Aluminum Alloy
2. Color: Silver
3. Weight: 3kg