Bestway H2OGO! Inflatable Mega Water Park Pool Slide with Electric Blower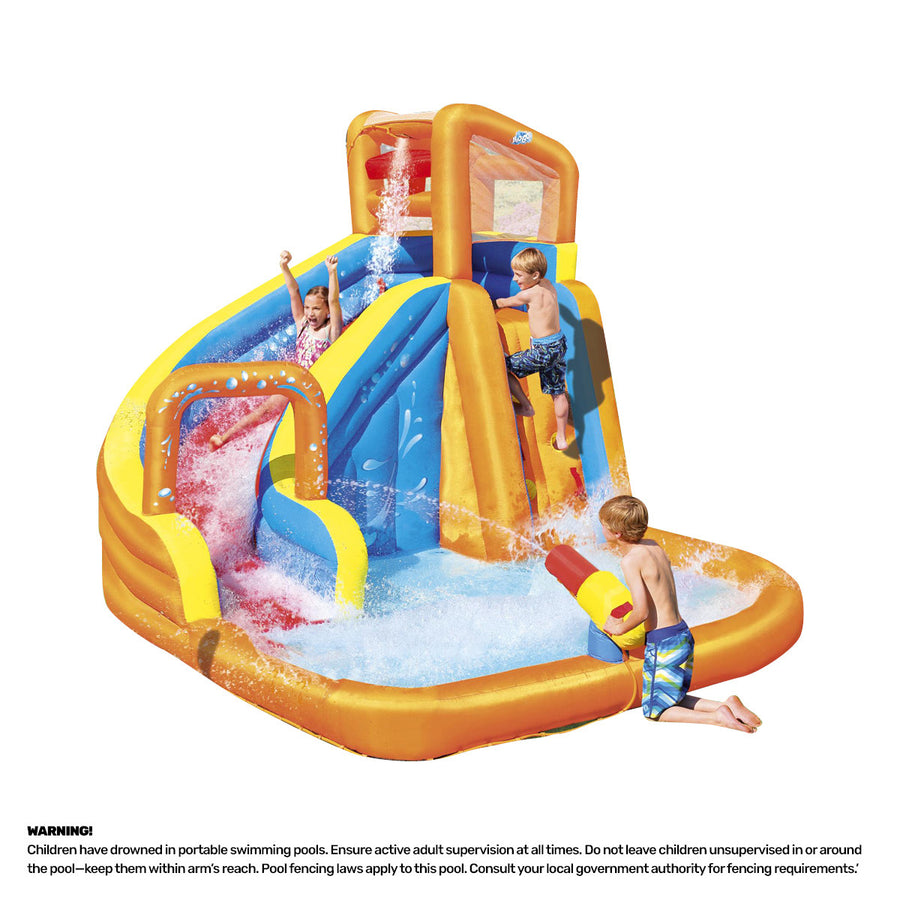 Bestway H2OGO! Inflatable Mega Water Park Pool Slide with Electric Blower
Regular price $714.99 Sale $1,299.90
Description
The Bestway H20GO! Turbo Splash Mega Water Park is easy to set up with a 2 minute inflation time, and guarantees hours of summertime fun for kids! This inflatable water park incorporates a collection of fun features - A water slide with high barrier walls, an extra-large pool for a splash landing, a built-in point and spray water blaster, a water shower that fills up a water dumping bucket for a fun surprise and also keeps the slide slippery. A built-in mesh shoe storage helps to keep shoes dry and accessible. This water park is made of durable PVC-coated polyester material that is comfortable to touch and additionally features mesh safety walls to prevent falls.
Perfect for summertime play! The Water park also has a secure mesh surround at the tower's peak. Not to mention heavy-duty repair patch for any pesky puncture holes that may arise.
Product Features:
1 x Turbo Splash Mega Water Park
Includes: 1 x Heavy Duty Electric Pump Blower (with 2 Stakes), 1x Water Spraying Hose, 1 x Anchor Bag, 1 x Heavy Duty Repair Kit, 1 x Storage Bag, 8 x Bouncer Stakes
Electrical Pump Blower Voltage: 220-240 Volts (Australian Mains Plug)
Comes with a water slide, climbing wall, shower sprayer and water dumping bucket, water blaster and an extra-large pool
Durable PVC-coated polyester material that provides a comfortable feel and touch
Side mesh shoe storage
Heavy Duty Blower Inflates the Water Park in 2 minutes
Protected with mesh safety walls to prevent falls
Perfect for Summer!
Assembled Dimensions: 3.65m (H) x 3.2m (W) x 2.7m (L) when fully inflated.
Pack Dimension: 45cm x 74cm x 45cm
Includes heavy-duty repair patch
Suitable for Ages 5-10 years
Outdoor Use Only
WARNING!
Children have drowned in portable swimming pools.
Ensure active adult supervision at all times.
Do not leave children unsupervised in or around the pool—keep them within arm's reach.
Empty and store safely after use.
Adult assembly only. This toy is not safe if the anchorage system is not used, as it may be lifted by light winds.Do not use in high winds.