2x Wooden Frame Leatherette in Solid Wood Acacia & Veneer Dining Chairs in Chocolate Colour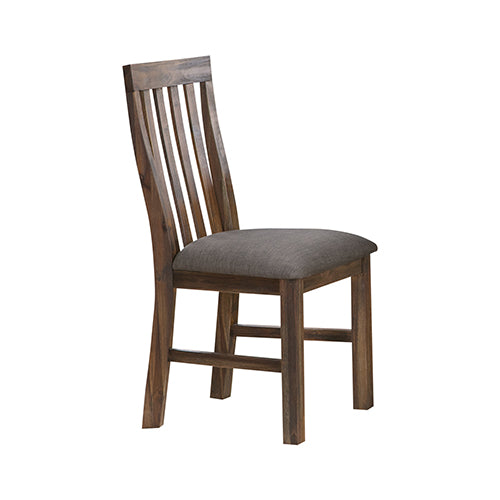 2x Wooden Frame Leatherette in Solid Wood Acacia & Veneer Dining Chairs in Chocolate Colour
Regular price $358.99 Sale $499.00
Description
Product Description:  
Vintage Look
Nowra Dining Chair has a vintage look with its traditional Oak/Chocolate colour. Its seat is made of comfortable fabric with padding inside it. This Dining Chair would be a smart choice to decorate your dining room without breaking your bank. Coordinate it with other pieces from the Nowra series for a complete look.
Strong and Sturdy
Made from Solid and Veneered Acacia Frames, this dining chair has a strong and sturdy construction.It has a medium high back rest which will allow you comfortable leaning back.
Supreme Quality
The chair is stuffed with finest linen fabric cover for an inviting look and long lasting shape. It is heavy duty in nature which will provide durability and longevity. Its dark colour would keep it look clean for a long time.
Firm Support
We are conscious about both the look and quality of our products. Metal wire brushed finish of our Nowra chair offers an aesthetic look to your dining room. Again, it is elevated with solid wooden feet which make the chair strong and sturdy.
Key Features:
Vintage Design to Suit any Home Décor
Solid and Veneered Acacia Frames
Classic Oak/Chocolate Colour
Comfortable Fabric Seat Pad
Elevated with Wooden Feet
Matching Dining Table Available
Fully Assembled
Product Specifications:
Product Dimension: L-52 x W-47 x H-105cm
Box Dimension: L-58 x W-49 x H-115cm
Product Weight: 3.5kg (1pc)
Box Weight: 7kg
Packaging Type: Assembled & Flatpack
Package Content:
2x Wooden Frame Leatherette in Solid Wood Acacia & Veneer Dining Chairs in Chocolate Colour
Images are for illustration purposes only. The colours may slightly vary from actual product.